Club Championship
The 2021 Club Championship will be held August 28-29. Sign ups are now open on the website .
The 2020 Club Championship was held August 29-30.
Congratulations to our Club Champion Rich Rizzo on a two day total of 151 to take the gross title . Tim Aiken finished second (159) and Kim Bryan and Bill Sholten finsihed tied for 3rd at 163.
Brendan Lewis won the net division with a two day net total of 141 ( 1 under par).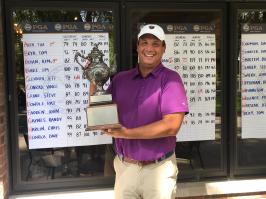 Rich Rizzo with the Club Championship Trophy
2020 Summary 2020 Full Results
2019 Summary 2019 Full Results
2018 Summary 2018 Full Results