Club Championship
The 2022 Club Championship was held on Aug 27th and 28th, 2022 (RESCHEDULED DO TO RAIN OUT).
Congratulations to our 2022 Club Champion Jeff Werstak on a two day total of 158 to take the gross title . Jeff finsished in a tie with James Lawrence. The Playoff went 5 holes until Jeff grabbed the title!
John Nyhan won the net division with a two day net total of 137 ( 5 under par), playing the weekend in net 68, 69. Great Playing John!. Clarke Gagliardi finished 2nd and Paul Manley finished 3rd.
John Nyhan also won the Senior Championship (which was added this year) with a Gross Score of 165, edging out Bill Sholten and Clarke Gagliardi at 166.
Full Results are below.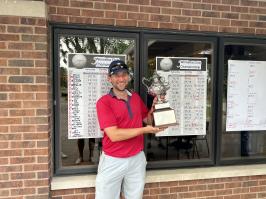 Jeff Werstak with the Club Championship Trophy
2022 Summary 2022 Full Results
2021 Summary 2021 Full Results 2021 Winner Jeff Werstak with trophy
2020 Summary 2020 Full Results 2020 Winner Rich Rizzo with trophy
2019 Summary 2019 Full Results
2018 Summary 2018 Full Results